Liverpool City Council holds 'public question time' over budget cuts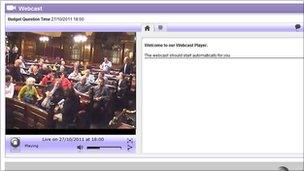 A "public question time" over budget cuts has taken place at Liverpool Town Hall.
The council, which has to save £102m over the next three years, outlined options for the 2012-13 budget during the meeting.
Residents were invited to ask questions and voice their opinions about services likely to be affected.
The meeting was broadcast on the council website where all questions will be posted.
Council leader Joe Anderson (Labour) said: "Last year we were trimming the fat, now we're into the muscle, there is going to be real pain."
He added: "Things will never be the same how we operate."
Two hundred people were able to attend the meeting, which was targeted by demonstrators outside.
Related Internet Links
The BBC is not responsible for the content of external sites.