Sefton council proposes light switch off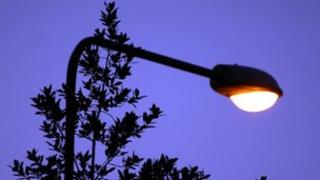 Street lighting in some areas of Merseyside could be turned off to cut costs, a council leader has proposed.
Peter Dowd, leader of Sefton Council, said switching off or dimming lighting at certain times of the night could help the council cut its budget.
The authority is running a public consultation on how it can save £20m.
Mr Dowd said: "We have 31,000 lights in Sefton, plus about 2,000 street signs, and not necessarily all of those need to be lit."
The council has already made savings of £44m for 2011/12 following cuts in government funding.
It needs to save a further £20m in 2012/13 and is proposing new ways to cut costs, including charging for internet access in libraries.
Mr Dowd said: "It's not just about the saving of money, we have for the past few years been saving energy and we want to look at other ways.
"We could have reflective signs rather than a light.
"It isn't just about lights being turned off, they can be dimmed and save electricity in that way.
"You have to look at as many options as you can."