Tributes paid to Merseyside couple killed in Spanish flood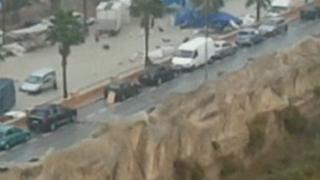 A couple from Merseyside who were killed in a flash flood in Spain have been described as "the most devoted couple you would ever want to meet".
Kenneth Hall, 72, and his wife Mary, 70, from Bootle, were at a market in a ravine in Finestrat on the Costa Blanca when it flooded after heavy rain.
Water surged into the market, sweeping the couple to their deaths.
The Halls' close friend Pat Mercer, 62, said the couple were midway through their holiday in nearby Benidorm.
She said: "They went to Benidorm twice a year. They loved it out there, they went there for the last 20 years or so.
"They were fabulous, they were the most devoted couple you would ever want to meet."
Ms Mercer added: "Kenny was a proper gentleman. Mary was happy-go-lucky."
BBC correspondent Sarah Rainsford, in Madrid, said the couple were sitting outside a cafe stall at the weekly market when they were hit by a wall of water up to a metre high.
Local media said the couple's bodies were found trapped under a trailer after the flood.
Another two people were taken to hospital, according to local media, and a 90-year-old was missing for a time but was later found unharmed.
Mrs Mercer said the couple had three sons, Kenneth junior, Keith, Chris, and a daughter, Carol, who had recently given birth to a granddaughter.
The Halls had recently become great-grandparents, Ms Mercer said.
She said all the family were "absolutely shocked" and that son Kenneth had flown out to Spain.
"All the neighbours are traumatised by it," she said. "It has hit me. They have lived here for more than 40 years."
She said the couple had been retired for many years and that Mr Hall had worked in engineering while Mrs Hall was a home help for the local council.
Mrs Mercer said she herself had visited Benidorm recently and had been due to meet them at the market, which they visited regularly.