Liverpool gigs mark decade since George Harrison's death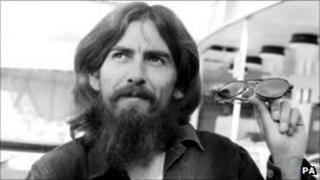 Two concerts will take place in Liverpool to mark 10 years since the death of George Harrison.
The youngest of the Beatles, Harrison died of lung cancer on 29 November 2001 at the age of 58.
The concerts will be held at St George's Hall and The Cavern Club on the anniversary of his death.
Acts he signed to The Beatles' Apple label, Brute Force and The Radha Krishna Temple, will be among those to perform at the events.
Others include The Mersey Beatles, Singh Strings, Andre Barreau from The Bootleg Beatles and the Dovedale School Choir.
Visitors from the Radha Krishna Temple will be feeding all the performers and audience at both concerts free or charge.
The St George's Hall concert will be a free ticketed event.
Harrison's post-Beatles career started with the critically acclaimed solo album, All Things Must Pass.
He became a film producer in 1979, backing Monty Python's Life of Brian and later, The Long Good Friday, Time Bandits and Mona Lisa.
He was known for his spirituality, embracing Indian culture and Hinduism in the mid 1960s.