Mersey Gateway given £470m by government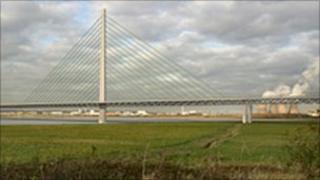 The government has said it will pay up to £470m towards the cost of building a second bridge across the River Mersey.
The Mersey Gateway project, to build a six-lane toll bridge between Runcorn and Widnes, was approved by planners last year.
Transport Secretary Philip Hammond said the planned £600m crossing would boost growth in the region.
The announcement means Halton Borough Council can now look for a private firm to build and operate the bridge.
The government said the council had managed to shave £30m from the original proposed cost, which meant the project would be better value to the taxpayer.
The Department for Transport will contribute £86m in direct capital, about 30% of the total up front bill, and up to £14.55m per year in revenue support for 26 years after the bridge opens.
Halton Council said the remaining capital costs would be funded by the private sector.
'Best possible deal'
The bridge is intended to ease congestion on the Silver Jubilee Bridge, which has been in place since 1961.
The current bridge was designed to carry 9,000 vehicles a day but now carries nearly 10 times that amount.
The project was given initial funding approval by Chancellor George Osborne as part of the 2010 Comprehensive Spending Review.
It then received planning approval in December 2010.
Construction work is now expected to start within two years and take about three years to complete.
The funding was mentioned by Mr Osborne in his speech at the Conservative Party conference in Manchester on Monday.
Speaking after the conference, he said: "Construction is going to start in 2013, after we have done all the design work in this huge project, and we should have work completed by 2016.
"So there's something that the North West has been crying out for for many, many years, delivered now by this coalition government."
Rob Polhill, Leader of Halton Borough Council, said: "This is great news and clears the way for us to launch our competition for the delivery of the new crossing.
"It is worth remembering that detailed research has shown that Mersey Gateway can be the catalyst that creates over 4,000 jobs, improves journey times and reliability for millions of people in the region and brings massive inward investment and regeneration potential into the area."
Steve Nicholson, Mersey Gateway project director, said: "We have been working very closely with government over recent months to finalise the details of this agreement and I am delighted with the results.
"This agreement represents the best possible deal for the public purse and means that we can focus on delivering a project that will bring benefits to local people, commuters and businesses from across the region."