Liverpool appoints Terry Stubbings as town crier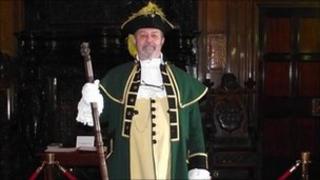 Liverpool has appointed the city's first official town crier for over 200 years, following auditions outside Liverpool Town Hall.
Terry Stubbings, 65, a former town crier for Lincoln, was chosen ahead of three other hopefuls.
He will now represent Liverpool at the Huddersfield Town Crier competition.
Mr Stubbings will take part in civic and ceremonial events and welcome passengers arriving at Liverpool's Cruise Liner Terminal.
'Over the moon'
As part of the competition he wrote an ode to Liverpool which he performed in front of a panel of judges.
Mr Stubbings was a sergeant in the Parachute Regiment for 17 years and town crier for Lincoln for 14 years.
He now lives in Kirkby, Merseyside.
He said: "I'm over the moon to be Liverpool's official town crier - I knew I was up against three really strong competitors, and we were all desperate for the title, so I'm delighted to come out on top.
"Liverpool really does have the wow-factor and has so much to offer.
"During my cry I wanted to try and fit in as much as possible and really sell the city - but in 60 seconds you can't really do the city justice."
Liverpool's Lord Mayor, Councillor Frank Prendergast, who was part of the judging panel said: "It was a really tough decision to make as each candidate was really exceptional and they were really enthusiastic about being an ambassador for this great city.
"All the interviewees did fantastic cries outside the Town Hall and attracted a lot of attention and crowds which is exactly what we want our new recruit to do.
"Terry's experience gave him the edge, and I'm confident he will do an outstanding job representing the city and shouting about all the fantastic things this city has to offer."