Colin Hughes murder: Mum's appeal over Old Swan killing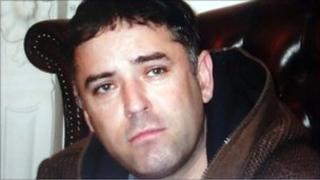 The mother of a Liverpool man fatally stabbed in his backyard has appealed for information on the first anniversary of his death.
Colin Hughes, 42, was stabbed in the chest at his home in Baden Road, Old Swan, on 21 September 2010.
His mother, Margaret Hughes, said: "The person who did this needs to be brought to justice."
Police said any details, no matter how small and insignificant they may seem, could help the investigation.
So far police have arrested 10 people over his death. Seven were released without charge and three were released on bail pending further inquiries.
Mrs Hughes said: "Not knowing who has done it is the worst thing - I could be walking past them in the street, or sitting next to them on the bus and I wouldn't know.
"I beg anyone who knows who did this to my son, or who may have any information about people acting suspiciously on that night and hasn't yet come forward to the police, please, please contact them so they can find whoever was responsible and help bring us some peace."
Mr Hughes had been about to marry his fiancee Paula Greenwood.
Ms Greenwood said: "Someone knows the person who did this.
"That person may be feeling guilty because they have robbed everybody of a really lovely man - not just me but his friends and family and it would make our lives more bearable if someone could come forward with the information the police need to be able to put whoever did this to Colin behind bars."
Det Ch Insp Phil McEwan, senior investigating officer in the case, said: "We will be relentless in our search for Colin's killers and I urge anyone with any information about who may have been responsible for his death to come forward."
Anyone with information is urged to contact Merseyside Police.