Liverpool solicitor Linda Bakewell 'was killed by friend'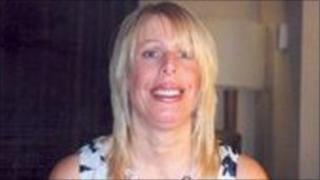 A Liverpool solicitor was strangled or smothered to death by her friend and left in the boot of his car, a court has been told.
Linda Bakewell, 45, was found "naked, scraped and bruised" in a car belonging to Philip Martins, jurors at Chester Crown Court heard.
Mr Martins, 48, a machine operator from Somerford Walk, Widnes, denies murder.
He said he panicked after Ms Bakewell died when she accidentally choked during a sex act.
Ms Bakewell's body was found in a car in Shevington Walk, Widnes, on 24 November.
Anne Whyte, QC, prosecuting, said Ms Bakewell had met Mr Martins through mutual friends on the Northern Soul music scene.
'Obnoxious and boorish'
She said that it was clear to everyone who knew them that Ms Bakewell "really liked" Mr Martins and he was "only too happy to take advantage of her affection and her wallet".
The jury were told that a week before her death, while Ms Bakewell was at a bar buying drinks, Mr Martins referred to her as a "nuisance".
Ms Whyte said Mr Martins would drink "quite heavily" and take cocaine, which made him "brasher, more obnoxious, boorish and self confident".
The court was told the pair met in a pub in Widnes on 19 November, before visiting another pub. The solicitor then drove them to an isolated industrial estate where the car remained for one hour and 45 minutes.
Ms Whtye said: "Our knowledge of what happened in that time is limited but what we do know is that Linda Bakewell was never seen alive again."
'In the boot'
Ms Bakewell, who worked for Armstrongs Solicitors in Liverpool, was reported missing by her parents on 20 November.
The court heard that when police arrested Mr Martins on 25 November on suspicion of kidnap he told officers: "She's in the boot of my car."
He said they had met in the early hours of 20 November and driven to an industrial estate where Ms Bakewell had agreed to perform oral sex on him.
Ms Whyte said: "After a while he said he noticed her head was slumped and after picking her head up he noticed her eyes were open and she was dead.
"He drove her back to his house and once he got there he dragged her body across the ground into the house and left her in the living room while he went to bed.
"He accepts he made absolutely no attempt to resuscitate her and couldn't explain why."
The court was told a post-mortem examination concluded that Ms Bakewell died of asphyxiation and found she had suffered impact injuries to her head while she was still alive.
Ms Whyte told the jury: "Instead of doing what any person, in my view, would do and call for help he spent the next four days in callous indifference going about his business.
"This death was no accident and, grimly, the evidence from the post-mortem will prove that."
She said his actions were not of an innocent man but those of "a desperate man".
Medical experts for the prosecution will give evidence to say the act of performing oral sex cannot lead to asphyxiation, the prosecutor added.
The trial continues.