Queen Mary 2 arrives in Liverpool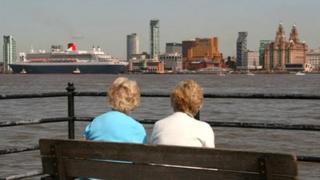 The Queen Mary 2 (QM2), one of the world's largest ocean liners, sailed into Liverpool to mark the end of the Mersey River Festival.
The luxury Cunard liner brought 2,600 guests to the city as part of a cruise around the British Isles, Ireland and the coast of France.
A firework display will mark the QM2 departure and the end of the river festival at 22:00 BST.
The 1,132ft ship will then leave the Mersey to head to Greenock in Scotland.
The start of the On The Waterfront festival was marked with the arrival of Cunard liner Queen Elizabeth on 8 September.
The week-long event has attracted more than 100,000 visitors for aerobatic displays, street theatre and a concert by British soul singer Beverly Knight.
Alastair Stott, in charge of the event, said: "The festival has gone extremely well.
"We had the Queen Elizabeth here last Thursday, we've had community sailing activities and we even raced P1 power boats on the river.
"We've had about 5,000 people watching the Queen Mary 2 arrive today.
"Maritime has a great heritage in Merseyside and Cunard is synonymous with Liverpool and I don't think that will ever go away."