Fight to save Wirral's Wilfred Owen war memorial field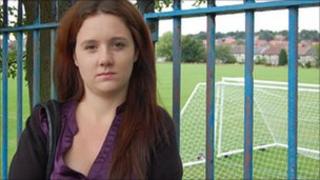 A Wirral woman has started a campaign to save a war memorial field dedicated to fallen World War I soldiers, including Birkenhead war poet Wilfred Owen.
Helen Dodd, 23, from Birkenhead, has started an online petition and Facebook group to stop the development of the site.
The field in Prenton is the former training ground of Tranmere Rovers Football Club, which has applied for planning permission to build houses on the land.
Miss Dodd said: "Working at the Wilfred Owen gallery opened my eyes to the horrors of war and when I found out about the plans I thought I need to do something to stop this going ahead.
"It is a very important site. There was 88 people who this memorial was dedicated to and the trees represent the fallen soldiers from World War I.
"I'm doing this to put it into the public domain. I'm pleased people are hearing about it."
The site was used by the Birkenhead Institute, where Wilfred Owen was educated, as a playing field before being acquired by Tranmere Rovers in the 1990s.
Former pupil of the Birkenhead Institute Brian Cowfe said that pupils were taught the importance of the site.
He said: "We were reminded of it every time we went through the doors because the commemorative plaque was at the entrance of the pavilion.
"Rugby, cricket and athletics were all held on this field and it is very sad to see the pavilion run down."
Tranmere Rovers was unavailable for comment.