Liverpool rapper MC SAS launches recording studios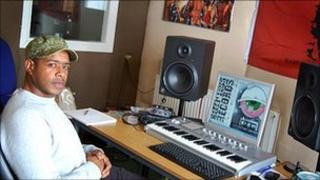 A Liverpool rapper has opened recording studios in the city, after attending a BBC Introducing workshop.
MC SAS, also known as Curtis Holligan, opened Sleep Less Studios after a BBC Introducing Musician's Masterclass in London in February this year.
He was nominated to attend the session by BBC Radio Merseyside's Dave Monks after he was featured on his show.
The studios in Gostin Building provide a place for drum 'n' bass, dubstep and grime artists to record their music.
MC SAS said: "I think a lot of artists rely on recording in their bedroom, but I think that's the wrong way to go for any musician.
"You need a good product that is top quality, and you need to get in the right circles too."
Over 30 musicians have already visited the studios, in Gostin Building on Hanover Street.
MC SAS says tips he has picked up from BBC Introducing Musician's Masterclass have helped him when working with new artists.
"We've had artists coming in for different things, either wanting mix-downs downs done, or coming in to record," he continued.
"We've worked with up-and-coming artists and well-established artists in the city.
"I've been doing it so long that I have a lot of links in Liverpool, and I can use them to help younger artists move forward with their careers."