Liverpool becomes home to spooky CBBC vampire drama Young Dracula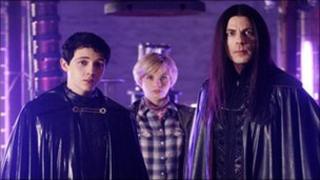 Vampires - they are spooky, they are mysterious, they suck your blood. They have been spotted across Liverpool and have their lair in the Margaret Beavan School, West Derby.
Young Dracula, the successful children's programme for CBBC, has moved production from Wales to Liverpool.
Locations such as Marleys Tile Factory, Delamere Forest and Croxteth Hall have all been featured.
Jobs were created for more than 50 people in the north-west on the show.
The series has been commissioned for a third series after production stopped in 2008.
'Gothic atmosphere'
The series follows the Dracula family; Vladimir, his father Count Dracula, and older sister Ingrid. Having lived in Transylvania, they move to Stokely, a small town in Britain, after various incidents involving angry peasant mobs.
The 13 episode series finds the Dracula family keeping a low profile, deciding to "hide in plain sight" by buying a school, all the while being pursued by slayers and radical vampires.
Vlad's father is determined that he fulfil his destiny to lead the vampire race, but this is threatened by the Count's own tendency to create drama and mayhem on a daily basis.
Local locations have been transformed. The Heritage Market has become the slayers' headquarters, and the Margaret Beavan School has become the vampires' lair.
Producer Lis Steele said: "Filming Young Dracula in Liverpool has been an incredibly fulfilling and rewarding experience.
"We were very lucky to find the Margaret Beavan School, which provided a wonderful gothic atmosphere for our main location - the school at the centre of the series - as well as the attic home for our Dracula family.
"As well as providing the central location, the school was also the main production base providing work spaces for our design, costume and make-up departments.
"Liverpool City Council was extremely helpful in making available to us a whole host of supplementary locations which provided additional interesting and spooky backdrops."
Gerran Howell, who plays Vlad, explained the current fascination with vampires: "At the moment vampires are very cool and dangerous, there's a lot of romanticising about vampires. It's been really helped with the Twilight films. They're more popular than they have ever been."
As well as creating jobs locally on the production, security and facility providers were also based in Liverpool
The programme will be aired on CBBC in autumn 2011.