Liverpool gay quarter plans set to go ahead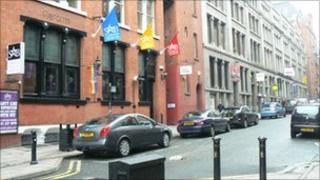 Plans to officially establish a gay quarter in the centre of Liverpool have been supported by a new report.
The report, which suggests the Stanley Street area could bring in more tourists and boost the economy, will be considered by councillors next week.
A £12,000 council-funded consultation on how to develop the area concluded in May.
Proposals include creating a central square with restaurants and cafes to give international appeal.
Labour Councillor Nick Small, who represents the Central ward, said the plan would also create new jobs.
"It's all about bringing money into the city and it's around where we want Liverpool to be positioned," he said.
"I think it's going to be jobs in the visitor economy.
"But I think beyond that it's about creating a better place for people to live in Liverpool and positioning Liverpool in a slightly different way than we have done in the past."