John Lennon's Quarrymen Cavern debut date questioned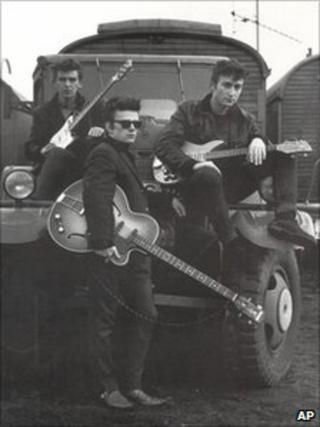 John Lennon's debut at the famous Cavern Club was earlier than that listed by Beatles' historians, a former bandmate has claimed.
Rod Davis, who played banjo alongside Lennon in The Quarrymen, says the date of 7 August, 1957 is incorrect.
Mr Davis performed in the skiffle group at the club with Lennon, but was on holiday in France in early August 1957.
"No question about it, I played three or four times at The Cavern and it was definitely before August," he said.
"I have my dad's passport which says 'Entry to Boulogne 29 July, 1957', so I was definitely not there."
Church fete meeting
Mr Davis only recently realised the mistake when he found photographs, taken by his father James Davis, of The Quarrymen performing on the day in July 1957 when John Lennon met Paul McCartney at the St Peter's Church fete in Woolton.
"On the same strip of film of my dad's photograph of The Quarrymen at St Peter's, was us with my uncle who lived in Epping and we stayed the night with him before we went to France," he said.
"Despite what I told [Beatles biographer] Hunter Davies that I remembered this gig, I didn't, so I'm as much to blame as everybody else.
"The general compilations by Mark Lewisohn and others say they've gone by adverts in the Liverpool Echo but there were things which were called skiffle sessions at which only the leading group was named.
"We played dates at The Cavern at which The Quarrymen were not advertised by name."
Mr Davis was an original member of The Quarrymen along with Pete Shotton, Colin Hanton, Eric Griffiths, Len Garry and John Lennon.
The group formed in early 1957 and, after several personnel changes, eventually became The Beatles.
Mr Davis left The Quarrymen soon after his French holiday, just as Paul McCartney joined. George Harrison became a member of the group in 1958.
In 1997 the original Quarrymen line up, minus John Lennon, reformed for a one-off benefit gig.
The group has stayed together since, regularly touring venues around the world including many Beatles conventions, although Pete Shotton retired in 2000 and Eric Griffiths died in 2005.
Replaced by McCartney
Mr Davis recalls meeting Paul McCartney for the first time at a band rehearsal at John Lennon's Aunt Mimi's house on Menlove Avenue.
"The famous meeting with Lennon and McCartney was 6 July and a couple of weeks after that I remember practicing at Aunt Mimi's and it was the only time I ever remember being there," he said.
"I turned up at Mimi's and there was this guy there who I didn't know so I said to John, 'Who's this John?' and he said 'That's Paul, he's come to listen to us practice'.
"By then obviously they'd offered him the banjo player slot, so if I hadn't been such a rubbish banjo player Paul McCartney wouldn't have got in the group."
The Cavern Club opened in January 1957 as a jazz club but it soon became popular with skiffle groups.
Paul McCartney's first appearance at The Cavern with The Quarrymen was in January 1958.
Mr Davis says while he is unable to recall the date of the group's first appearance at The Cavern, he does remember the night that led to their first official booking when they were spotted by Cavern owner Alan Sytner while playing at a local golf club.
The performance had been arranged by the group's friend and manager Nigel Walley who worked at Lee Park Golf Club, Alan Sytner was a member of the audience.
"I remember this booking particularly well because just before we went on stage the cheap pair of jeans I'd bought for 7 shillings 6 pence their zip split seconds before I went on stage," Mr Davis said.
"So I spent the entire set crouching behind a banjo thanking the Lord I wasn't a ukelele player.
"Alan Sytner was in the audience and as a result of that we had some gigs at The Cavern."
Rod Davis was speaking with his brother the folk musician Bernie Davis, to BBC Radio Merseyside's Spencer Leigh for the On The Beat programme, which will be broadcast by the station at 17:30 BST on Saturday 6 August, 2011.