TJ Hughes stores to stay open saving 442 jobs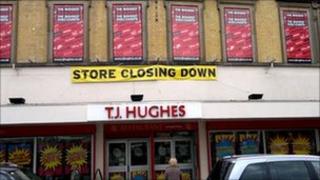 Four TJ Hughes stores have been sold to a homewares company by administrators.
The move means 442 jobs will be saved as shops in Liverpool, Eastbourne, Glasgow and Sheffield will stay open.
The discount department store's outlets were sold to Lewis's Home Retail, a company associated with Speke-based homewares group Benross.
Administrators Ernst and Young said it continued to seek a sale of the remaining business and assets, which includes 53 remaining stores.
Liverpool-based TJ Hughes called in the administrators in June - putting 4,000 jobs at risk - after a difficult period of trading.
GA Europe bought the chain's £10m debt and is overseeing clearance sales at the stores across the country.
Benross, also Liverpool based, supplies homewares, electrical, lighting, toys and leisure products to retailers across the UK. Lewis's is its retail arm.
Joint administrator Tom Jack said: "We are delighted to have exchanged contracts on this deal, which saves 442 jobs and continues the TJ Hughes legacy in Liverpool, as well as in other locations across the UK."