Lipa graduation: Sir Paul McCartney celebrates with students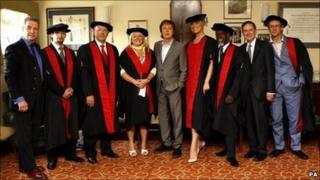 Sir Paul McCartney has led the graduation celebrations at the performing arts school he set up in his home city.
Liverpool Institute of Performing Arts (Lipa) opened in 1996 after a long campaign by the former Beatle.
Three hundred students attended the ceremony to collect their degree and postgraduate certificates.
Sir Paul, 69, also presented Lipa Companionships to Grammy Award-winning singer Billy Ocean.
'Talented graduates'
Former Madonna dancer Steve Nestar; studio designer and acoustics expert David Bell; record label executive Caroline Elleray; community arts creator Chris Johnston and musical theatre actor Hannah Waddingham were also presented with Lipa Companionships.
The school companionships are awarded for outstanding achievement in the arts and for those who provide a practical contribution to its students' learning.
Mark Featherstone-Witty, the school's founding principal, said: "This year roughly 135 practitioners contributed to our learning which is quite a total.
"No institution is better than its teachers and there is no substitute for learning from the best.
"Outstanding practitioners share their knowledge for all the disciplines we teach and help us maintain the employment record of our talented graduates."