Warrington homes evacuated after garage fire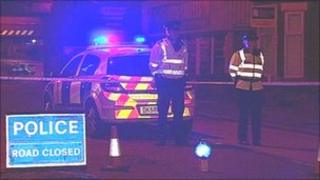 About 20 families are waiting to return to their homes after a large fire at a garage in Warrington.
A total of 300 homes were evacuated near the garage on Marsh House Lane after the blaze broke out at about 17:00 BST on Tuesday.
A 200m cordon was set up amid reports there were acetylene cylinders inside.
The position of the garage under the railway line between Liverpool and Manchester led to trains being suspended for several hours.
Alternative services were provided for travellers and the line reopened at about 21:50.
Investigations into the cause of the blaze are continuing.
A spokesman for Cheshire Police said: "The protective cordon has been considerably reduced and most of the residents living in the area are being allowed to return to their homes.
"A small number of homes closest to the garage that caught fire are still out of bounds for the time being.
"Residents who need to find out if they can return should visit the Fairfield Neighbourhood Project centre which has details of which houses continue to be within the much smaller cordon."
Paul Knowles, one of the residents moved out of his home, said: "My wife phoned me and said we'd been evacuated, possible explosions and we think it's going to be one night. I hope it's only going to be one night.
"We have just been told 24 hours, and that was around 7 o'clock-ish."