Titanic captain's telescope fails to sell at auction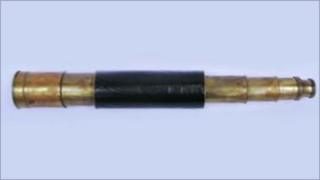 A brass telescope which once belonged to the captain of the Titanic failed to sell at auction in Liverpool.
The brass eyepiece, which was discovered in an attic, bears the name Edward John Smith, the captain of the liner that sank in 1912.
The telescope had been expected to fetch about £20,000 at auction but did not reach the reserve price.
It was found by auctioneer John Crane, who was invited to value items owned by a relative of Captain Smith.
Mr Crane said he was disappointed that the telescope did not sell.
"When you are selling anywhere, Ebay, directly to an antique dealer, you've got to be realistic with your price.
"It might be Titanic but at the end of the day it is still a little bit of metal and if you put a very high reserve you're not going to sell it."