Museum of Liverpool opening attracts 12,000 visitors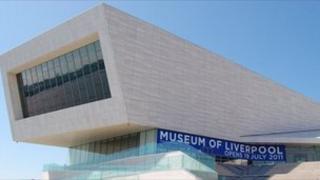 More than 12,000 people visited the £72m Museum of Liverpool on its opening day on Monday.
Among them was Yoko Ono, the widow of John Lennon, who attended a VIP reception.
The 8,000 square metre building on Liverpool's waterfront is the largest purpose-built museum in Britain for more than a century.
The museum, which has about 6,000 artefacts, is expected to attract 750,000 visitors a year.
Some of its exhibits include Ken Dodd's tickling sticks and the skeleton of the 1900 Grand National winner.
The first Ford Anglia to come off Ford's Halewood production line in 1963 is also on show, as is the school-hall stage on which John Lennon and Paul McCartney first played.
The entrance to the building features an atrium with an elliptical staircase and a circular skylight.
It has a gallery which explores Liverpool's links with the rest of the world and an area for children under six.
Visitors to the second-floor Skylight Gallery can see the cityscape painting, commissioned in 2008 and in the People's Republic gallery, an 80ft picture window frames the city's so-called Three Graces - The Royal Liver Building, The Cunard Building and the Port of Liverpool Building.