Liverpool Garden Festival site reopening delayed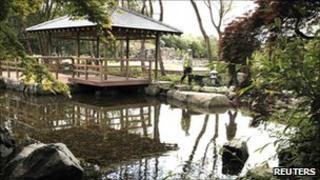 The reopening of Liverpool's Festival Gardens has been postponed after the main contractor went into administration.
Mayfield Construction was close to completing the multimillion-pound restoration of the waterfront site.
It is hoped a new contractor will be able to finish the work on the gardens in time for them to open in September.
Owner Langtree is renovating the site, which fell into into disrepair after changing hands several times.
Langtree has drafted in temporary maintenance staff until a new contractor is appointed.
'Lose money'
"We are sad that Mayfield has found itself in this predicament having almost completed the works necessary at the site," said Langtree managing director John Downes.
"Good people have lost their jobs, the opening date for the gardens will unfortunately be delayed and we, like a number of other companies, are likely to lose money as a result of Mayfield's collapse."
Mayfield went into administration on 8 July.
More than three million people visited the site in south Liverpool after its official opening by the Queen in 1984.
The 1984 International Garden Festival was billed as a "five-month pageant of horticultural excellence and spectacular entertainment".
It contained more than 60 individual gardens, a Festival Hall, public pavilions and miniature railway.
Restoration work costing £3.7m, funded by the former North West Development Agency, began in February 2010.
It had been hoped the gardens would be ready to reopen this month.