Liverpool Waters 'could threaten heritage status'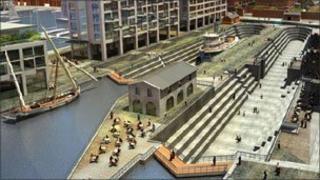 Plans to develop Liverpool's waterfront could threaten its status as a World Heritage Site, it has been claimed.
Peel Holdings is planning to build a series of high-rise buildings including offices, shops and apartments in its £5.5bn Liverpool Waters scheme.
The government said there was considerable concern the proposals may have an impact on the heritage status.
It said a team from Unesco's World Heritage committee would visit the city in the autumn to monitor the plans.
It is expected to look at planning procedures and its impact on the area.
'Considerable concern'
A spokeswoman for the Department of Culture, Media and Sport said: "All parties agree that regeneration of the area is important; however, there is considerable concern that the current proposals from Peel Holdings may have an impact on the Liverpool World Heritage Site.
"As a result there will be a joint World Heritage Centre/International Council on Monuments and Sites mission to Liverpool, likely to be in the autumn, to examine the Liverpool Waters proposal and its potential impact, and to assess planning procedures and the overall development strategy for the site."
Peel Holdings is planning to develop both sides of the River Mersey, with a similar regeneration scheme, Wirral Waters, in the pipeline to redevelop Birkenhead Docks.
It claims the Liverpool development will rival New York, Vancouver and Shanghai and create more than 25,000 jobs.
The company declined to comment on Tuesday.
Liverpool was officially confirmed as a World Heritage Site in 2004, based on its maritime history and significance as a port.
The status covers several parts of the city centre including the waterfront, the commercial area of warehouses and merchant's houses around Duke Street and the William Brown Street area.