Liverpool bids to change city cruise restrictions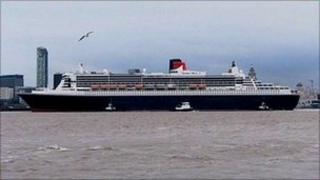 Cruise liners could start and finish journeys in Liverpool under new plans, the Department for Transport said.
Liverpool cruise terminal currently serves as a port of call, but a consultation is now under way to try and lift those restrictions.
The proposals have intensified a row with Southampton, whose port business could be affected if they are approved.
A senior director at Southampton port called the plans "unfair" and questioned their legality.
In return for lifting the restrictions, Liverpool council would pay back £5.3m in government grants over 15 years.
The money is part of a £9.2m UK grant invested in Liverpool's Pier Head development, including the cruise terminal which opened in 2007.
Associated British Ports (ABP), which owns Southampton Docks, argues that if the plans are approved, it would be a misuse of state funds.
ABP said it was now taking legal advice from its lawyers.
Lucrative market
Doug Morrison, ABP's Southampton port director, said: "It's not fair. Our complaint is we've invested £40m-plus here of our own money in recent years.
"It's obviously unfair. Is it legal? Well that's something we'll have to look at."
Royston Smith, leader of Southampton City Council, also questioned the plans.
He said: "It's not in the spirit of what the money was given for. My view is they should pay it all back."
When Liverpool's cruise terminal opened in 2007, the Department for Transport ruled there was "potential for unfair competition with other UK ports".
Its operations were restricted to cruises calling at the city as part of a longer trip.
However, turn-around cruising - when a liner starts or ends its journey at the port - is considered a far more lucrative market.
'Fair competition'
Shipping Minister Mike Penning, who put the plans forward for consultation, said: "Liverpool has a rich maritime heritage spanning many centuries, and I am keen to see that continue.
"However, I have been clear throughout this process that I am equally committed to ensuring fair competition across all UK ports.
"I'm sure Southampton would like to see competition. If there is a need and the there's a market demand, let's see whether that can take place.
"I've not said that [Liverpool City Council] would definitely get permission. What I've said is, 'Propose to me how you can pay back a percentage of it', because it's depreciation so it's logical they don't pay all of it back, and let's see if that fits the criteria."
The consultation of port operators and other interested parties will last until 15 September, with a decision expected by the end of the year.