Merseyside Police officer recalls 1981 Toxteth Riots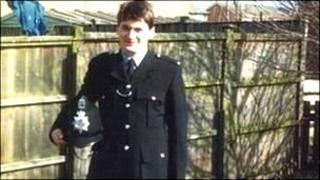 On the 30th anniversary of the Toxteth Riots, a former Merseyside Police officer who served in the disturbances has said it was a miracle none of his colleagues were killed.
Dave Potts was a 20-year-old police constable sent in to tackle the sudden outbreak of violence on the city's streets.
He recalls vividly the 5 July 1981 - a night of mayhem that left the famous Rialto Ballroom in flames and he and his colleagues fearing for their lives.
"There was a hardcore of people who wanted to kill a police officer," said Mr Potts.
"I just remember three or four times during that night thinking, 'this is it, I'm not getting out of here.' "
The Toxeth riots erupted two days earlier on 3 July, 1981, following the arrest of a young man, Leroy Alphonse Cooper, on Selborne Street, Liverpool 8.
No police officer was killed although the eight days of anarchy that followed left 460 officers injured and more than 70 buildings demolished or burnt down.
There was one death in the weeks after the riots. On 28 July 1981, a disabled man, David Moore, was killed when he was hit by a police Land Rover during a disturbance.
Ahead of his arrival on the scene on 5 July, Mr Potts says a number of terrifying rumours began to circulate.
"A couple of older officers came up to me and said 'a bobby's been killed, somebody's had their leg chopped off, somebody's been decapitated with a spade'.
"It was a frightening situation before we even started."
As the trouble spread across Liverpool 8, the former officer was involved in a number of near misses, most terrifyingly, he says, on Grove Street.
"They (the rioters) drove a JCB at us," he said.
"It was like a big metal T-Rex, it was snapping its jaws and I thought 'we're not going to stop this'.
"From behind the JCB they started throwing builders spikes. I saw a Greater Manchester bobby speared through the leg and all this time the JCB was rolling towards us and you literally didn't know where to go."
In the run-up to trouble flaring in Toxteth tensions had been rising in the area.
At that time, Merseyside Police had a reputation in the area for stopping and searching black youths under what were known as the 'sus' laws.
But Mr Potts, who had joined the force the previous April, is keen to point out it is a misconception that those involved in the rioting were mainly from the Black community.
"From my research, on the Saturday night there was probably 30 to 40 mixed race youths involved who were quickly joined by about 100 white youths.
"Certainly on the Sunday night, the Rialto night, there was very few black faces," he said.
Mr Potts can recall the body armour the police were forced to use.
"We were given a very flimsy riot visor, which attached to your helmet with elastic.
"We knew no different at the time, I remember one of the lads thinking this would protect us. Later on in the evening we were to find it wasn't going to.
"I always remember they gave us a cricket box and a set of football shin pads. There was no personal equipment," he said.
Over the period of the riots, more than 700 police officers were injured and 500 arrests were made.
Mr Potts, who spent 13 years as a police officer, says the force did learn lessons in the aftermath of the riots.
"The sergeants tried their best with their own men but very soon it just became complete chaos," he said.
"The good thing (now) is no police officer will ever be put in the position where they can get injured so badly.
"It was the turning point where police tactics changed."