James Bulger's father criticises Parole Board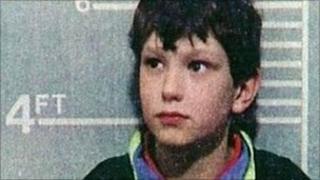 The father of James Bulger has criticised the Parole Board for a "lack of transparency" following a decision over his son's killer.
The board ruled that Jon Venables - who with Robert Thompson murdered the toddler in Bootle on Merseyside in 1993 - was not eligible for parole.
Both were released on licence in 2001. But last July, Venables was jailed over indecent images of children.
The Parole Board said it operated as directed by Parliament.
A three-member panel had to decide whether Venables still posed a risk to the public and will have considered the nature of the offence, the prisoner's offending history, and his progress in jail.
It will also have considered any psychologists' reports and reports from the prison and probation services.
In a statement released through his solicitor, James' father Ralph said he was "relieved" by the board's decision but said the process had been "distressing".
"It has some Kafkaesque features lacking in transparency and accountability," Mr Bulger's solicitor, Robin Makin, said.
'Game of battleships'
He said the identities of those on the panel should be disclosed, the evidence they considered by the Ministry of Justice (MoJ) made known, and the reasons for their decisions made public.
Mr Makin added: "To have to deal with such a serious matter as if it were a game of battleships not knowing whether the Parole Board have evidence and have taken it into account is quite unacceptable."
A spokesman for the Parole Board said information was disclosed to "official parties" - the prisoner and the Secretary of State.
"That is how Parliament decided we should operate," he said.
Mr Bulger's solicitor also criticised the expense of dealing with Venables.
"While the vast public resources have been expended in dealing with the interests of Jon Venables, the MoJ have failed to devote resources to assist Ralph Bulger and his family."
Mr Makin said there was a "liberal agenda in favour (of) taking precedence over the interests of the victims".
'Daily nightmare'
A spokesman for the MoJ said it was "strongly committed to addressing the needs of victims" through its victim contact scheme. Victims receive information about the offender's sentence and can submit a statement to the board.
James Bulger's parents met the chief executive of the National Offender Management Service to discuss the review into Venables' supervision, he said.
The Parole Board is due to reconsider its decision next year. Mr Makin said this would be "another distressing process".
"Unless something changes it will be compounded by the lack of transparency and reasoning," he said.
"Similarly to explain again and afresh the daily nightmare in consequence of the murder adds to the suffering."