Chewing gum found in 'wine' bottle bought in Liverpool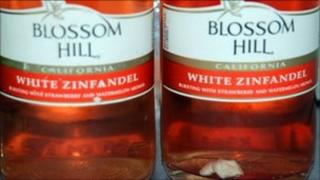 A counterfeit wine scam in Liverpool was uncovered when chewing gum was found in a bottle of rose.
The gum was found by a person who bought the bottle from a shop in north Liverpool.
Trading Standards officers raided the shop and seized 50 75cl bottles which were on sale for £5 each.
Initial tests show the so-called wine had oxidised giving a vinegar smell. It has been sent for tests, a spokesman for Liverpool City Council said.
The spokesman said the bottles appeared to be from well-known brands, including Echo Falls, Blossom Hill, Kumala and Hardy's.
The bottles had a metal screw top but no metal collar - unlike the genuine bottles.
'Hopefully just unpleasant'
The screw-top was secured to the bottles with a plastic heat seal.
Trading Standards said the counterfeiters were likely to have found empty used bottles and screw tops, restocked the bottles with liquid and then secured them with a plastic seal.
They said the plastic seal and poor condition of the labels were a warning sign that the bottles were fakes.
Officers from Liverpool Trading Standards Alcohol and Tobacco Unit (ATU) have visited more than 100 premises in the city and urged people to be vigilant.
Councillor Tim Beaumont, assistant cabinet member for environment and climate change, said: "At this stage, until we have the results of the analysis, we do not know if the substances in the bottle will have any effects on people's health - hopefully it will prove to be just unpleasant but harmless."
'Could escalate'
Gary Baskott, ATU manager, said: "The 'wine' was on sale in an area of Liverpool which already suffers high levels of health inequalities and alcohol related anti-social behaviour.
"This type of counterfeited product is sold cheaply and adds to these problems.
"This product also gives an unfair advantage to unscrupulous traders and penalises regular businesses in the city.
He added: "All the intelligence we have available to us at the moment suggests that the problem may well be localised however it is likely to escalate citywide if we do not act swiftly.
He urged anyone with information to contact Liverpool Trading Standards.