Mersey Estuary tidal power scheme 'will not go ahead'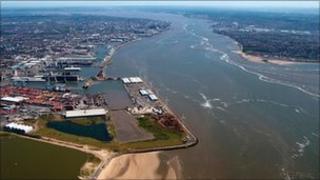 A £3.5bn tidal power scheme will not go ahead in the Mersey Estuary, despite the scheme having the potential to provide electricity for 200,000 homes.
Peel Energy and the North West Development Agency (NWDA) undertook studies into the proposal.
Their preferred scheme was to construct a barrage between New Ferry and Dingle.
Peel said the long term cost of electricity would be cheap but the scheme was not profitable enough in the medium term to attract investment.
It said there needed to be a change in the way renewable energy and security of supply was valued - moving from a short and medium term focus to the longer term.
Peel Energy and the NWDA began looking at generating power from the Mersey Estuary in 2005.
Their preferred scheme included locks to accommodate large ships and small leisure vessels.
It also included a visitor centre, paths, and a tidal turbine research centre.
'Valuable insight'
Anthony Hatton, Peel Energy's development director, said: "In the longer term, once the upfront capital costs have been paid off and for the rest of its 120 year life, the cost of electricity would be very competitive.
"But the preferred scheme is unlikely to attract the necessary investment while the emphasis in the financial sector and renewable energy incentives is on technologies that provide short to medium term returns.
"We need to identify an appropriate funding structure that recognises the long term low cost of electricity, security of supply and wider economic benefits that investments such as this provide for future generations."
Peel said it would not be "progressing the development work until it has confidence in the financial and regulatory framework for tidal power".
Mark Atherton, head of energy and environment at the NWDA, said: "The feasibility work has provided a valuable insight into how tidal energy schemes could be operated in the future to deliver wider economic impact, whilst minimising the potential environmental impact.
"Some of the lessons learnt from the work undertaken are applicable not just to the Mersey Estuary, but to other estuaries in the North West and UK."