Liverpool war artist's paintings revealed at Walker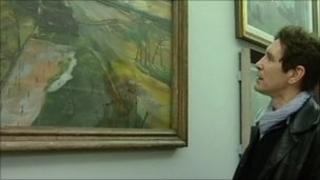 Paintings of World War II by a Liverpool artist are being displayed at the city's Walker Art Gallery.
Albert Richards painted his experiences of the war, becoming Britain's youngest official war artist.
Liverpool actor Paul McGann looks at his work in Hidden Paintings of the North West on BBC One North West at 1025BST on 26 June, 2011.
Richards, who parachuted into France in June 1944, was killed in Holland in 1945 when his jeep ran over an enemy mine.
The artists work has only recently been put on display in a new gallery showing works of art from the Walker's archive.
Forgotten hero
Paul McGann has been finding out more about Albert Richards as part of a BBC partnership, Your Paintings, which is showcasing the art owned by the Nation, 80% of which is not on display.
"Unearthing these 'hidden' paintings from World War II was a fascinating experience and the stories behind them were compelling," Paul McGann said.
"As a son of Liverpool, it was particularly gratifying to go back to the Walker and even better to 'discover' Albert Richards.
"I'd never heard of him but he was a wonderful painter and one of our great forgotten heroes."
Albert Richards was born in Liverpool but spent much of his life in Wallasey. He attended Wallasey Art School from the age of 15 until he gained a scholarship at the Royal College of Art in London, shortly before the start of the war.
Within three months of getting the scholarship he was called up, joining the Royal Engineers where he started painting his experiences of the war.
The Walker exhibition includes a surreal self portrait from 1939 called The Seven Legends.
One of Richards' paintings, The Flooded Maas, painted in Holland in 1944, when he was on the front line is hidden from public view on an office wall in World Museum Liverpool.
"He (Richards) would have been a household name, had he lived," said Dr Laura MacCulloch, Curator of British Art at the Walker.
"I'm pretty certain he would have been as big as say Lucien Freud."