Sonae fire: George Howarth MP calls for factory closure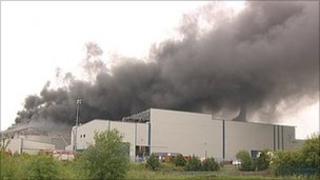 A Merseyside chipboard factory damaged by a large fire is facing calls from a local MP to be closed permanently.
George Howarth, Labour MP for Knowsley, said other blazes and accidents had affected the Sonae plant in Kirkby, where two workers died.
In an Early Day Motion tabled in the Commons he said the complex posed "a considerable risk" to the public, workforce and fire service.
A spokeswoman for Sonae Industria said the firm did not want to comment.
The latest fire started in a woodchip storage bunker at the factory on Thursday night and caused extensive damage.
The plant has faced a number of health and safety inquiries in the past decade, amassing tens of thousands of pounds in fines.
In December, two men were killed at the factory when they were dragged into a giant silo.
'Financial burden'
Mr Howarth has been a frequent critic of the company and in his motion "notes with grave concern" the recent fire.
He added there have been "long-standing complaints about dust and air quality from residents and businesses... over the past decade".
And despite the site employing about 200 people, he argues it places a "disproportionate financial burden on Knowsley Council, the fire service and the Health and Safety Executive".
His motion concludes by calling on the "relevant regulatory bodies to give urgent consideration to closing the plant down permanently".
Sonae Industria, which opened the plant in 2000, uses wood chippings in the manufacture of chipboard and particle board.
In a statement released after the fire, a spokesperson said: "We would like to convey our apologies to local residents who have been affected by this accident and assure them that we are doing everything within our power to resolve this situation as quickly as possible."