Grandmother's corpse kept in Wirral benefits fraud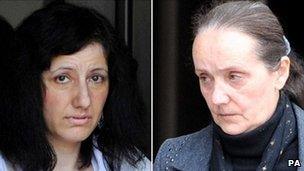 Two women have admitted leaving the corpse of a dead grandmother unburied at their home for up to six months while one of them kept her benefits.
The body of Olive Maddock, 95, was left in a bedroom at the house in Wirral by daughter Olive Hazel Maddock, known as Hazel, and granddaughter Jasmine, 35.
Hazel Maddock admitted unlawful prevention of burial and dishonestly claiming her mother's benefits.
Jasmine Maddock admitted a charge of leaving a body unburied.
Both women pleaded guilty at Liverpool Crown Court on Monday.
Mrs Maddock's remains were found at the home she then shared with her daughter and granddaughter on Saltburn Road in Wallasey, Wirral.
Merseyside Police, who were alerted by a concerned neighbour, found her body slumped behind the door of her bedroom.
Forensic examinations, especially of insects found on the corpse, could not give an exact cause or date of death but she is thought to have died of natural causes between two and six months earlier.
Hazel Maddock, a television extra who has worked on Channel 4 programmes Brookside and Hollyoaks, obtained one payment of her dead mother's state pension of £176.92 and a single payment of pension credit of £34.44.
A judge warned Maddock and her daughter, an artist, that they faced a jail term when they are sentenced.
Both women, who no longer live together or at the house in Wallasey, were granted bail on condition of residence to addresses shown to the court.
Speaking to Jasmine Maddock, Judge Gerald Clifton said: "You must expect the possibility of a custodial sentence."
The pair will be sentenced on Friday, 1 July.
Related Internet Links
The BBC is not responsible for the content of external sites.