Sonae factory fire: smoke from site to continue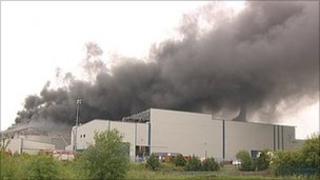 People in Knowsley have been warned they will continue to see smoke coming from a chipboard factory, after a fire broke out on Thursday.
Allowing the smoke to drift, at the Sonae factory, in Kirkby, was part of the "safe management of the incident", Merseyside Fire and Rescue said.
The blaze started in a wood chip storage bunker and the smoke is likely to be visible for the next few days.
The factory has been closed and Sonae has apologised to local residents.
Environment Agency officers have visited the site to monitor the environmental impact from the drifting smoke.
Labour MP George Howarth, who represents Knowsley, has called for talks with the firm's Portuguese owner saying the site, which opened 11 years ago, is a drain on emergency services resources.
Knowsley Council has also said it was seeking a meeting with the owners and emergency services, to discuss the factory's safety provision.
The firm has faced four health and safety inquiries in the past decade, amassing £132,000 in fines.