CBE honour for minister critic Councillor Richard Kemp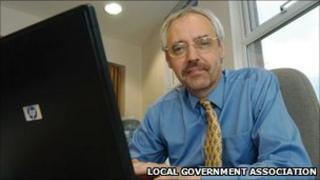 A Liverpool Liberal Democrat councillor who has a reputation for criticising cabinet ministers has been appointed CBE in the Birthday Honours list.
Councillor Richard Kemp, also the vice chair of the Local Government Association, said he was surprised when he received a letter in May.
Last December, he accused Tory ministers Eric Pickles and Grant Shapps of behaving "like Laurel and Hardy".
Merseyside's chief fire officer Tony McGuirk has also become a CBE.
'Even handed'
Mr Kemp, 58, who has represented people in Liverpool for 28 years and is now deputy leader of the Lib Dems in the city, was recognised for public service.
He said: "As I have spent the last seven or eight years coming into conflict with ministers, I thought there would be a Lib-Lab pact to say I wouldn't get anything.
"I have had a go at Eric Pickles, Nick Clegg and Gordon Brown - I am fairly even handed. But I have worked with them all too.
"My job isn't to look for an honour. It is to stand up first of all for constituents, then the city and then local government."
The father-of-three and grandfather-of-one said he was looking forward to collecting the honour from Buckingham Palace with his family.
Elsewhere on Merseyside, Lewis Biggs, chief executive and artistic director of Liverpool Biennial, was appointed OBE for services to the Arts in the North West.
Among those to be made an MBE were James Murray, for services to people with autism; Dr Jane Davis, for services to reader development; Amrit Kumati Dhigpal Kaur Singh and Rabindra Kumati Dhigpal Kaur Singh for services to the Indian Miniature Tradition of Painting.
Deputy chief constable Bernard Lawson has been awarded the Queen's Police Medal.