Art-rock Outfit support Ladytron at St George's Hall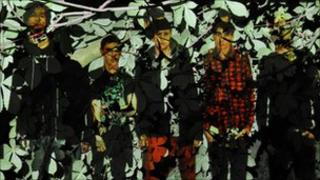 Art-rock band Outfit will support Liverpool's Ladytron, just five months after forming.
The Wirral based five-piece will join the electro pop group at St George's Hall, Liverpool on 10 June for a special anniversary gig.
Ladytron are marking 10 years since the release of their debut album '604'.
Outfit, who formed in January 2011, played their first gig in February supporting Les Savy Fav and supported Clinic at Liverpool Sound City in May.
"Ladytron are a great band," said keyboardist Tom Gorton.
"A hidden Liverpool band in a way. I mean, they're massive but it almost seems like they aren't from around here.
"They've got a similar kind of mystery to them as us, I think."
Although the band members have known each other since 2010, they didn't play together until 2011 to make sure they had a 'fully formed' sound before playing live.
"The idea for us was to present something fully formed," explained lead singer and guitarist Andrew Hunt.
"To make an artistic statement as well as a set of songs that you play for twenty minutes.
"We wanted to get across an idea of what our band was all about.
"Lyrically, a lot of Outfit songs dwell on themes of identity, loneliness and yearning, and particularly in a way that relates to the internet and technology around us.
"But there is a lot of energy that hangs behind that as well."
Outfit are Andrew Hunt, Thomas Gorton, Nicholas Hunt, Christopher Hutchinson and David Berger.
They support Ladytron on 10 June 2011 at St George's Hall Liverpool and will play their first festival at Rough Beats in North Yorkshire on 11 June.
They plan to release a 12" vinyl record at the beginning of September on Double Denim Records.
For more information visit Facebook: Outfit