Sonae factory fire: MP seeks safety talks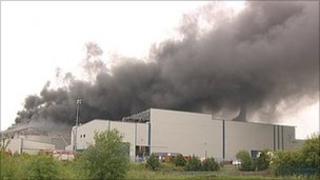 An MP has called for talks with the owners of a chipboard factory on Merseyside after a large fire.
More than 40 firefighters tackled the blaze in a woodchip storage hopper at the Sonae site on Knowsley Industrial Park, Kirkby, which began on Thursday.
George Howarth MP said the plant was unstable and hazardous and takes up too much of the emergency services' time.
The fire has caused extensive damage to the factory, which Sonae said would remain closed for investigations.
Crews from Merseyside Fire and Rescue service remained on site throughout Friday to contain the fire.
Incidents 'continuing'
Knowsley MP Mr Howarth said: "This latest incident at Sonae serves as yet another example of the fact that this plant is unstable and hazardous to local residents, businesses and those who work there."
Mr Howarth added: "Sonae takes up far too much of the time and resources of the fire service, Knowsley Council and the Health and Safety Executive.
"I will shortly be calling a joint meeting of the various bodies responsible for monitoring Sonae to pool their experience and seriously consider whether it can be allowed to continue given the risks to the community."
Officials from the Environment Agency also visited to monitor any possible environmental impact from the drifting smoke.
A spokesperson for Knowsley Council said: "The council has expressed its concerns on a number of occasions and has taken steps alongside the HSE to regulate the site within the powers available to it.
"Nevertheless these serious incidents continue.
"Therefore we will be seeking an urgent meeting with the relevant agencies with a view to discussing the actions we can take to improve the situation both for local residents and also for those people who work at the site."
A company statement said the site was evacuated safely and no-one was injured in the fire.
"The factory will be closed until a full assessment can be carried out," it said.
"We would like to convey our apologies to local residents who have been affected by this accident and assure them that we are doing everything within our power to resolve this situation as quickly as possible."
Sonae Industria, which opened the plant in 2000, uses wood chippings in the manufacture of chipboard and particle board.
The plant has faced four previous health and safety inquiries in the past decade, amassing £132,000 in fines.
In December, two men were killed at the factory when they were dragged into a giant silo.
A fire at the factory 18 months ago took four days to extinguish.