Titanic captain's cigar box sells for £25,000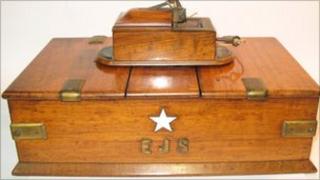 A cigar box once owned by the captain of the Titanic has been sold for £25,000 at an auction in Liverpool.
The walnut humidor was discovered gathering dust on a bedroom cabinet in the Merseyside home of Hilary Mee.
It was spotted by auctioneer John Crane when he was invited to value a number of antiques.
Ms Mee said she had no idea the item was connected to the ill-fated vessel, even though it had been lying around her home for 20 years.
Finest smokes
The box carries the distinctive emblem of the White Star Line shipping company and bears the initials of the master of the passenger liner, Edward John Smith, who was from Stoke-on-Trent.
At first Mr Crane could not work out what the initials stood for but he said a tingle went down his spine when he realised it belonged to the ship's captain.
Ms Mee said the box had been in her family for several generations. It is thought to have been given to her father by relatives of Edward John Smith's widow, Sarah.
The box is lined with camphor wood and was designed to hold 40 of the finest Havana cigars.
The RMS Titanic was built at the Harland and Wolff shipyard in Belfast and sank after hitting an iceberg in the North Atlantic on her maiden voyage from Southampton to New York in 1912.