Liverpool Conservative defects to Labour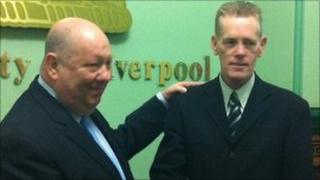 The last Conservative councillor to have held a seat on Liverpool City Council has defected to Labour.
Steve Fitzsimmons lost his Woolton seat in 1998 and stood unsuccessfully for the Tories in nearby Fazakerley in the local elections on 5 May.
He said his decision was made over the past year of the coalition government.
Mr Fitzsimmons said the cuts imposed by the coalition are too heavy and Labour are now the best party to safeguard Liverpool's services.
'Savage cuts'
He said: "As a Conservative Party member, I was unable to support the attacks on the public sector, and the targeting of Liverpool for the deepest and harshest cuts, which we have seen coming from this government.
"That's why I've joined the Labour Party - because they're the only party with Liverpool's best interests at heart."
He said he was "impressed by the leadership of the council provided by Joe Anderson".
Liverpool Labour Leader Joe Anderson, said: "I am delighted that Steve has decided to quit the Tories and join Labour.
"The Tories have hit Liverpool hard. Their approach to the economy isn't working.
"Some of the worlds leading economists think that they're cutting too deep, and too quickly. Their policies will hurt the recovery, and they're doing nothing to help hard working families."
"Steve knows this, and he knows that Labour in Liverpool have got the right approach - working in partnership with businesses, whilst protecting jobs and services as best as we can in the face of savage government cuts."