Tiny tarantulas born at Cheshire Blue Planet Aquarium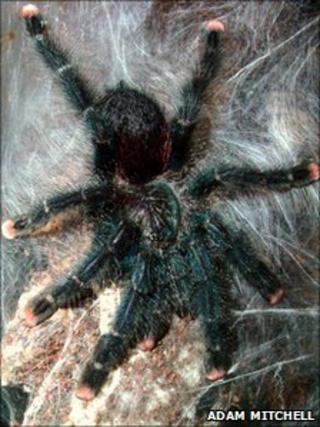 Sixty baby pinktoe tarantulas have been born for the first time at a Cheshire aquarium.
The baby spiders, which measure just 3cm across, were born in early May at the Blue Planet Aquarium at Cheshire Oaks.
The tarantula species, which originates from Guyana, is not cannibalistic so can live in large groups.
The babies have not yet developed the recognisable pink coloured tips to their legs that adults have.
Adult pinktoe tarantulas have been known to live up to 10 years, their natural habitat is high in trees where they feed on insects, reptiles and small rodents.
'Tarantula Towers'
The new arrivals are not currently on display while their growth is checked.
Blue Planet Aquarium's Adam Mitchell said: "We took the decision to remove the babies temporarily from the main display to monitor their progress,
"However they are doing so well and growing so rapidly that we are planning to return them to the display, which is known as Tarantula Towers, in the very near future.
"The babies are miniature replicas of the adults, however they have yet to develop the stunning colouration of their parents and their toes are a dark colour at present as opposed to the pinkish tinge which gives the species its common name."
When they are old enough the spiders will take their place in the aquarium's Venom exhibition, which features dangerous creatures from around the world.