Liverpool Cathedral service remembers blitz victims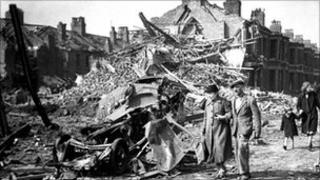 The 70th anniversary of the blitz on Liverpool is to be marked by a service at the Anglican cathedral later.
The Dean of Liverpool, the Very Reverend Justin Welby, and the city's Lord Mayor, Councillor Hazel Williams, will be among those attending.
It will include an act of remembrance, reflect on the reconstruction and reconciliation since World War II, and look forward with hope to the future.
More than 1,700 people were killed in the two week May blitz.
The blitz was one of the last series of big raids on Britain before the German invasion of Russia.
It caused massive damage to the whole city, including the city centre and port.