Prince's Trust business to help young entrepreneurs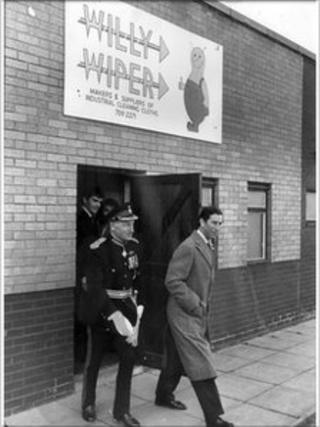 A man who started his Liverpool business in the 1980s with a Prince's Trust grant is aiming to help today's young entrepreneurs.
Mark Wray, 47, started his business Willy Wiper as part of the Prince's Trust Enterprise Allowance Scheme in the mid 1980s.
The company started buying old clothes from charity shops and selling them on as rags to garages.
Mr Wray is opening a business centre to help young people into business.
"Twenty five years ago I was a lad from Toxteth who didn't know the rules of business, now I'm a hard-nosed businessman," Mr Wray said.
"Starting up in the 80s was hard, my brother and I couldn't get a job because there weren't any out there, all we wanted was to earn a wage.
"We were encouraged to just go out and start your own business."
'Own our street'
Prince Charles visited the business in 1986, a few months after it had opened and has retained an interest since.
"We have met Prince Charles a few times," Mr Wray said.
"He came to Willy Wiper in 1986, we were invited up to St. James Palace.
"We went from supplying rags to garages and now we have over 4,500 items on a 138-page catalogue.
"We bought the rags and would cut off the zips and the buttons and sell them as rags.
The company changed it's name to Wray Brothers after 12 years.
"I just got sick of people taking the mick out of the name although our previous name was probably part of the key to our success," Mr Wray said.
Speaking of the new business centre, he added: "We have bought the building next door which is 48,000 square feet; we basically own our own street.
"If a young lad comes in I can tell him what he needs to do. Alan Sugar doesn't have a degree and neither do I. Show tenacity and it can be done.
"We opened the centre so we can share the lessons that we have learnt.
Mr Wray's advice to young people wanting to start a business is "never give up."
He attributes his own success in part to being "ignorant of failure."
"Once you get into the world of business people don't do you any favours and it's learning how to manage it," he said.
A spokesperson from The Prince's Trust said: "We have helped more than 76,000 young people set up in business since 1983.
"Businesses - like Wray Brothers - are making a huge difference to the health of our economy, creating jobs in areas where there are none.
"Helping young people to start their own businesses can also provide an escape route from the frustration and misery of unemployment."