Heysel stadium disaster film is planned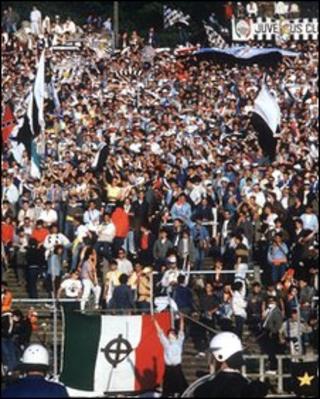 A novel about the 1985 Heysel Stadium disaster in which 39 football fans died is being made into a film.
Hundreds more were injured as a crush collapsed a wall at the Brussels stadium after a riot before the European Cup Final between Liverpool and Juventus.
The aftermath saw English clubs banned from European competition for five years with Liverpool serving an extra year's suspension.
The film is based on In the Crowd, by French author Laurent Mauvignier.
It follows fans from England, Belgium, France and Italy on the day of the game.
The film will be directed by French film-maker Jean Stephane Sauvaire whose last film, Johnny Mad Dog in 2008, was about child soldiers in Africa.
Last year saw the 25th anniversary of the disaster, on 29 May 1985.
In 1989, after a five-month trial in Belgium, 14 Liverpool fans were given three-year sentences for involuntary manslaughter.
Those who died included 32 Italians, four Belgians, two French fans and a man from Northern Ireland.
A further 600 fans were injured that night.