Eurovision: Blue songwriter not a fan of competition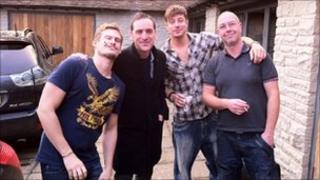 The man who co-wrote boy band Blue's Eurovision entry has admitted he is not the competition's biggest fan.
Ciaron Bell, from Wallasey, Wirral, who has also worked with Atomic Kitten, told BBC Radio Merseyside: "It's not really my bag if I'm honest."
Mr Bell was working on developing Blue's comeback when he found out one of the tracks he co-wrote, I Can, had been chosen for the competition.
Blue will represent the UK in the 56th Eurovision Song Contest in Dusseldorf.
Mr Bell was part of a team of writers and producers who were working with Blue when the track was chosen by the BBC to be the UK entry for the Dusseldorf competition.
"It was utter fluke on my part. We weren't trying to write a Eurovision song. We were just writing a good bit of honest pop.
"A couple of the lads [Lee Ryan and Duncan James] wrote the track with us, they are bona fide songwriters."
"Blue were aware that it was a big risk taking part in the competition but as a writer I don't have that much to lose."
'Skirts ripped off'
Mr Bell went on to say "I haven't watched the show since I was a child but maybe this will change my mind.
"My favourite moment was Buckz Fizz performing when they ripped the skirts off - but I don't think Blue are planning to do that."
The UK entry automatically progresses to the finals in Dusseldorf and does not have to compete in the semis.
Mr Bell added: "I quite fancied attending but I didn't get an invite."
Blue will be competing against acts including Jedward from the Irish Republic and last year's winner Lena, from Germany.
France are the favourite to win the music competition. Former winner Dana International from Israel was eliminated during the second semi-final.
The UK's entry in 2010, Josh Dubovie, came last scoring 10 points. The last time the UK won the competition was in 1997 with Katrina and the Waves.
Previous UK entrants include Cliff Richard, Michael Ball, Samantha Janus and Lulu.
When asked if Blue could win the competition, Mr Bell replied: "I hope so."