Libya death photographer Tim Hetherington's work shown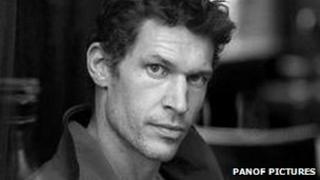 An exhibition of images taken by a photojournalist Tim Hetherington, who was killed in Libya, will open in Liverpool on the day of his funeral.
The Oscar-nominated photographer, who was born in Liverpool, was due to attend the exhibition of his work at the Contemporary Urban Centre.
The 41-year-old was killed in the Libyan city of Misrata in April while covering the conflict.
The display is part of the Look 11 citywide photography exhibition.
Mr Hetherington is one of 11 photographers whose work will feature in the Collateral Damage exhibition at Liverpool's Contemporary Urban Centre.
No Man No War is a collection of 24 photographs taken in Liberia between 2003 and 2006.
'Haunting images'
They show bomb-damaged buildings with graffiti written on them by soldiers.
Harry Hardie, co-curator of the Collateral Damage exhibition, said: "Tim was always pushing new ideas.
"The work we are showing here shows the remnants of war.
"The graffiti takes you into the psyche of these soldiers. Some of the images are very haunting.
"What is interesting is that Tim is focusing on people but not picturing them.
"It shows what pushing the barriers of conflict photography can do."
Mr Hetherington, who had dual US and British citizenship, spent 10 months with an American platoon in Afghanistan for his Oscar-nominated film Respreto, which followed the soldiers during their tour in Afghanistan's Korengal Valley.
He was killed in a mortar attack on April 20 while covering the fighting in the Libyan city of Misrata between Muammar Gaddafi's forces.
The exhibition will open as a tribute to Mr Hetherington's work on the day his funeral takes place at the Church of the Immaculate Conception in London on Friday.
"I can't really express how sad Tim's loss is for his friends and family and the industry," Mr Hardie said.
"It is great for us to honour him and have him in the show.
"I spoke to Tim about six months ago about taking part and he was very excited about our idea of finding new ways of showing conflict through photography."