Care offers 'life worth having'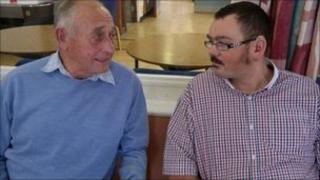 Care for the most vulnerable people in the community is being reviewed up and down the country, as local councils deal with cuts to their budgets from central government.
A BBC survey suggests Wirral Council is making an estimated 20.6% cut to its adult social care budget following the government's Spending Review.
It has said some savings have been made through the controversial closure of five council-run care homes, with care being transferred to independent providers.
Further savings will be made by offering those who use social services their own personalised care budgets to manage themselves.
Behind the statistics, though, lie an army of carers who rely on council-run centres to provide them with essential respite.
'Wears you down'
One of those carers is Eddie Griffiths, whose son, Peter has severe learning difficulties.
He uses the Eastham centre in Wirral, which will remain open despite the council having to find £12m worth of savings in its adult social services provision.
Mr Griffiths said for those who use the centre, going there lets them have a "life worth having" and offers valuable relief to the carer.
"For the carer of someone with a learning disability, without a day centre you cannot possibly live for 24 hours a day with someone with a learning disability with any sort of constructive life," he said.
"There is so much pressure that is put on you trying to meet their needs, it gradually wears you down, it really does, we need the respite care.
"The centre gives our people something to get up for, to come out for, to be involved in. They are having a life which is worth having.
"Without the day centre they couldn't possibly do it. With the day centre they have friends, they have outings, they live as normal a life as possible."
He said money spent on respite care did a "huge amount of good" all round.
"In our day and age if we cannot maintain a service to suit the most vulnerable people of our society, then it is a pretty sad show of mankind.
"If it did fail then the health situation of those carers and our sons and daughters, their health would fail and it would end up costing far, far more, than keeping people occupied and keeping them sane and keeping them happy, and giving them a bit of respite where it is needed, then it is a pretty small price to pay in the long run.
"It is a huge amount of money, but it does a huge, huge amount of good."