Wirral measles outbreak sparks vaccine pleas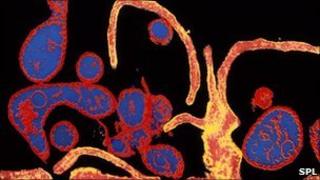 A woman in her 20s is seriously ill in hospital after an outbreak of measles in Wirral.
The Health Protection Agency (HPA) said two children had been confirmed as having the disease and there were seven other probable cases, including adults.
None of those affected had been fully immunized with the MMR vaccine.
The agency has advised parents to ensure their children have had two doses of the vaccine and urged adults to check with their GPs.
The measles patient admitted to hospital last week is now recovering after treatment.
Fatal disease
Dr Sam Ghebrehewet, director of the Cheshire and Merseyside health protection unit, said: "These cases in Wirral show just how important it is for parents to ensure that their children are given two doses of MMR vaccine.
"MMR is a safe and effective vaccine. Two doses give full immunity against measles, mumps and rubella, diseases that can have serious side effects.
"On very rare occasions people die from measles."
With measles circulating widely on the continent, the agency has advised parents thinking of taking their children on holiday in the summer to ensure they are fully protected.
Measles is an infectious viral illness that is spread when infected people cough or sneeze.
Symptoms of the illness include a runny nose, cough, fever and a rash.