Bikers flock to Cheshire car park races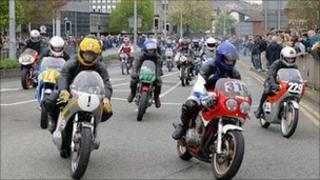 Up to 15,000 visitors have been taking part in a motorcycle racing festival staged in a Cheshire car park.
The two-day Thundersprint festival held in Northwich town centre attracts riders from all over the world.
Some of the town's roads and the central car park are closed to general traffic to allow racing and stunt displays to take place.
Thundersprint director Frank Spelling described the event as "a grand prix in a car park".
He added: "The council gives us its main car park in Northwich and we lay out a sprint track where a single bike races against the clock .
"It's right in the town centre and it's a really good event that's very easy to understand even if you're not a bike racing fan."