Liverpool gun makers jailed after undercover operation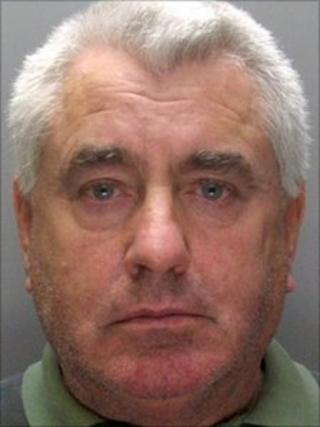 A man who was unmasked as a gun-runner and drug dealer when undercover police found a firearms factory in Liverpool has been jailed for 19 years.
James Dunne, 62, of Walton, was part of a gang of four men who re-activated old weapons before selling them on.
Liverpool Crown Court heard they re-activated at least 45 firearms which have been linked to several shootings.
Dunne, who admitted conspiracy to sell firearms, was jailed along with three other members of the gang.
Previous good character
He also pleaded guilty to re-activating the firearms and possessing drugs with intent to supply.
The court was told that Dunne was a man of previous good character and had six children and 11 grandchildren.
His co-accused Neil Hidderley, 50, of Walting Avenue, Liverpool, was jailed for 18 years after being found guilty of the firearms charges in two earlier trials.
Lee Malone, 24, of Jericho Close, Liverpool, and Joseph O'Rourke, 23, of Princess Road, Liverpool, both pleaded guilty to selling re-activated firearms.
Judge John Phipps sentenced them both to 10 years' imprisonment.
'Guns grotto'
The court heard when police raided the gun factory they found a "Santa's grotto of evidence" with a Sten gun, a World War II Bren gun, several Luger pistols and a "bucketful" of blank ammunition and other live rounds.
Daniel Travers, prosecuting, said undercover officers were sold an Uzi machine pistol for £5,000 in a Tesco bag by O'Rourke and Malone, who also agreed to sell three Glock 9mm pistols for £10,800.
Covert police officers followed Malone to the gun factory which was concealed in Freeport Engineering, a factory unit in Dublin Street, Liverpool.
Mr Travers said Hidderley and Dunne were responsible for the "conversion and supply of a large number of weapons over a number of years".
Dunne was found with £9,000 in cash and police also found cocaine, heroin, cannabis and cutting agents with a total potential street value of more than £1m.
Books and plans we also found in the unit and further weapons and ammunition was seized at Hidderley's home.
Mr Travers said tests carried out by the National Ballistics Intelligence Service, up to 45 different shootings had been linked to the unit at Freeport Engineering.
Weapons produced in the factory are thought to be linked to a murder in Oldham, Greater Manchester, and shootings in Merseyside and Preston, Lancashire, the court heard.