Merseyside Police helicopter is scrapped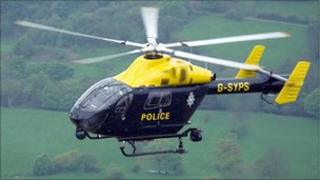 The Merseyside Police helicopter is being scrapped under plans to pool police resources to save money.
Forces in Merseyside, Cheshire, Lancashire, Greater Manchester, Cumbria and North Wales have agreed to collaborate in five areas to cut costs.
Four helicopters using four air bases will cover the region from a central control room from this summer.
As a result, Merseyside's helicopter, which is the oldest in the fleet, and its air base will be decommissioned.
A Regional Air Support Unit will be created and operated from a centrally located control room.
The forces are also to work together by appointing a regional chief firearms coordinator, who will work on understanding firearms risk and establishing common ways of working for firearms officers.
There will also be an assessment of policing public order incidents, to see how forces can respond to threats on a regional basis, as well as record and share information.
There are plans to create regional training facilities for officers, and to work closer in some areas of forensic science.
Margaret Ollerenshaw, chairman of Cheshire Police Authority, said: "We are all facing the same financial pressures and in some areas of policing it makes sense for us to join together to share resources and make savings."