Liverpool Pagoda Chinese Youth Orchestra funding raised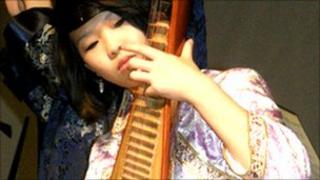 Liverpool's Chinese Pagoda Youth Orchestra plans to expand across the North West after its Arts Council England funding was doubled.
The orchestra's funding will increase from £20,000 in 2011/12 to more than £45,000 by 2015.
Formed in Liverpool's Chinatown in 1984 it is the first and largest Chinese Youth Orchestra in Europe.
"This is really exciting news for the Youth Orchestra," said Arts Development Officer Zi Lan Liao.
"At the moment we have people from as far away as Telford, Chester and Southport coming to us to learn Chinese music.
"With this increase in funding we can keep the name and brand of the orchestra and develop it as a more regional Chinese cultural centre."
Olympic project
Under founding musical director Mr KH Li young people between the age of four and 18 learn to play Chinese musical instruments.
In October 2010 the orchestra represented the city of Liverpool at the World Expo in Shanghai, performing alongside the Royal Liverpool Philharmonic Orchestra.
Zi Lan Liao said the secure funding meant the orchestra could plan for the future.
The orchestra is also working with deaf children from the Liverpool Signing Choir on a project for the 2012 Olympics.
The group is one of the winners on Merseyside in the Arts Council England's funding announcement.
Merseyside's large arts organisations the Royal Liverpool Philharmonic Orchestra, Liverpool Everyman and Playhouse, The Bluecoat Arts Centre and Foundation for Art and Creative Technology (FACT) have all had their funding renewed, although at a lower level when inflation is taken into account.
Liverpool's Arabic Arts and Writing on the Wall festivals have been given secure funding for the first time.
Other Liverpool groups have lost all their funding including Urban Strawberry Lunch, which runs events at the city's St Luke's Church.