Paul McCartney honoured at Liverpool Central Library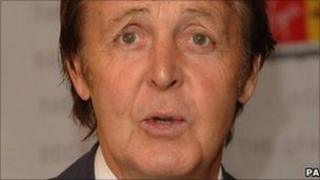 A list of Merseyside writers to be immortalised in a special panel on Liverpool's Central Library has been revealed.
Sir Paul McCartney was the most popular choice to be added to the Literary Liverpool panel.
Other names to be displayed include Lynda La Plante, Willy Russell and Frank Cottrell Boyce.
The panel will be displayed on the rear of the William Brown Street building following its £50m redevelopment.
Finalists were selected by the libraries and archives team as well as members of the public.
Pavement engravings
Sir Paul said: "I would be very happy for my name to be used on the external cladding of the redeveloped Liverpool Central Library and Archive. Thank you for doing me this honour."
The tribute to Sir Paul comes after the library discovered a prize-winning essay written when he was 10.
Written in 1953, the work for the Queen's coronation had lain undiscovered in a scrap book for over 50 years.
The refurbishment of the Grade II listed building will also include a Literary Pavement - a walkway which will lead from William Brown Street to the entrance of the library.
Engraved on the pavement will be titles of books which can be found in the building including Pride and Prejudice, Educating Rita and Peter Pan.
Famous quotations such as "Life is what happens when you're busy making other plans", by John Lennon, will also have their place in the new library in an area dedicated to inspirational quotes.
The library will also house the Liverpool Record Office with its 14km (8.7miles) of archives. Computers will allow visitors to download music and books onto MP3 and MP4 players.
Liverpool City Council's Head of Libraries, Joyce Little, said: "The redevelopment of Liverpool's Central Library is a huge project and will make the venue one of the best public libraries in the UK."
The newly refurbished library is scheduled to reopen in Spring 2013.