Missing Disney cruise worker Rebecca Coriam's parents fly home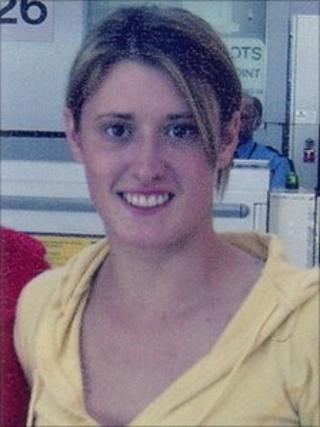 The parents of a missing cruise ship worker from Chester are flying back from the US having discovered no more about her whereabouts.
Rebecca Coriam, 24, a youth worker on the Disney Wonder, was reported missing from the 10-deck liner on 22 March.
Her parents Michael and Ann Coriam travelled to Los Angeles to gather her belongings and meet Disney officials and maritime investigators.
The 83,000 tonne ship set off earlier on its next scheduled sailing.
The ship, which was carrying 3,000 passengers, was three days into its weekly cruise from Los Angeles to the Mexican Riviera when Miss Coriam was reported missing off the coast of Mexico.
'Very painful'
An investigation is being carried out by the Bahamas Maritime Authority, with whom the ship is registered.
Disney said it had carried out "multiple searches" onboard and a sea search has been carried out by the US coastguard and the Mexican Navy.
Mr Coriam from Guilden Sutton, said: "We won't stop, we've just got to keep searching until we get to the bottom of it.
"It's just very, very painful the thought of not seeing her again."
Mrs Coriam said: "We can't come to terms with it. Where is Rebecca?
"We don't know whether she's dead or alive.
"We're hoping that she's such a good swimmer she might have gone overboard and swam to the coastline and somebody may have taken her in."
A Disney spokeswoman said: "We have been doing everything possible to find Rebecca Coriam including conducting multiple shipboard searches, the latest one as recently as Saturday.
"In addition, we have been working with all of the appropriate authorities. Rebecca's disappearance has been difficult for everyone at Disney Cruise Line.
"We've been in close contact with the Coriam family, and we're assisting them in any way we can."