Merseyside apprenticeship scheme begins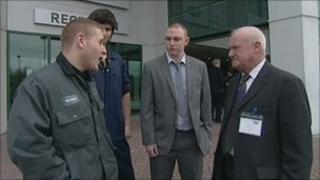 A campaign to create 10,000 new apprenticeships on Merseyside over the next 12 months has been launched.
The new positions will be open to young people in Liverpool, Knowsley, Sefton, Wirral, Halton and St Helens.
The apprenticeship strategy, supported by councils and businesses in the Liverpool city region, was announced at Halewood's Jaguar plant earlier.
Jaguar Land Rover has already created 1,500 apprenticeships to work on the new Evoque model.
Those posts attracted 15,000 applications.
Those behind the scheme now hope to convince private business that apprenticeships will work for them.
Councillor Ron Round from Knowsley Council and Councillor Nick Small from Liverpool City Council pledged their support on behalf of all six City Region councils.
Mr Round said: "What we are committed to do right across the city region is that if any of those young people are not successful, we will still keep hold of them, we will still support them."